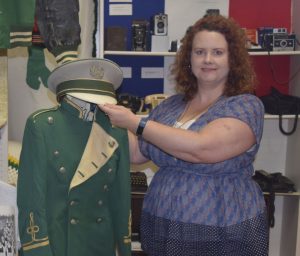 The Smyrna History Museum is closed as of July 2 to allow the museum manager, city workers, and volunteers time to clean up the museum storage space in preparation for a massive renovation.
The new Smyrna Historical Society, which was created to support and aid the museum in its operations, is playing a significant role in the museum's renovation. Once the cleanup has completed
The museum, which dates back to 1992, has been in its present location in a former railroad station for almost two decades. The cleanup is the first step in a complete renovation to its exhibits. This renovation will bring a chronological, narrative layout to the museum that will be accessible to all visitors.
In the next couple of months, a company will be hired to create and build all new exhibits for the museum. Requests for proposal are due on July 20. The projected start date for the renovation project will be Sept. 3.
Museum Manager, Jennie Eldredge, began work in October and has been inventorying the collection.
"It's a long term process of taking all the objects and measuring and determining what stories they can tell about Smyrna History," she said.
Previously run by volunteers, Eldredge is the first museum professional in the job.
In 1985 the Smyrna History and Genealogical Society started collecting records, photographs and objects until opening a physical museum in 1992. It moved to the present location in 1999.
Recently, the Smyrna Historical Society was created by the city council to support and aid the museum in its operations.
"We recognize the massive efforts that Harold Smith, his late wife Betty, and all of the members of the Smyrna Historical and Genealogical Society have undertaken to preserve Smyrna history." Eldredge said. "Without their interests and efforts, Smyrna would not have a history museum, and much knowledge and physical evidence of Smyrna's history might not have survived in such abundance. They have truly created a great legacy."
A native of Marietta, Ms. Eldridge earned an Anthropology degree from Georgia State University and has done field work in archeology
"I wanted to focus on museum work to marry my love of objects with bringing their stories to a public audience. She previously worked at the Atlanta History Center.
While the 1,500 sq. ft.museum building will not be expanding, an open scaffolding concept will maximize space.
"As we redo the exhibits in the museum, they will show a more chronological walk though Smyrna's history," she said. The preliminary design breaks Smyrna history into six time periods and themes and includes a temporary exhibit space for rotating exhibits.
The scope of the museum will be limited to the southern Cobb area, she noted. "Vinings has a historic society, but it's not a collecting society. We will also work with the Marietta Museum. It's about telling the story and what you see in Smyrna today."
The items that have been on display make up only a fraction of the collection. There are more than 10,000 items in inventory, many of them stored in the basement.
"They never really said no to anyone donating," she said. "We have the original ballot box that was used for early city elections plus an X-ray machine from Dr Crow's office, and old medicines."
Ms. Eldredge said she will be writing a guide to collections to judge future donations.
"My archeology background has come in handy in the museum basement. It's like an excavation," she said. "I'm recording the location of objects that I find in the basement storage."
"We are not actively collecting at this time as I am still going through what we have."
If you are interested in helping, the Smyrna Historical Society is looking for volunteers at all levels, including board members. Please email them at smyrnahistoricalsociety@gmail.com  and let them know you want to help.
From the July 2018 issue of The Bright Side, Cobb County Georgia's Newspaper covering Smyrna, Vinings, Mableton, Powder Springs and Austell, GA.