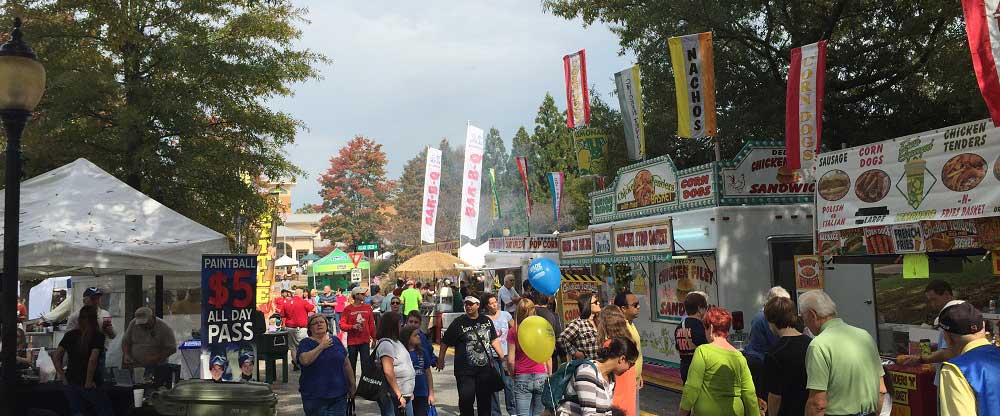 Smyrna will host the annual Spring Jonquil Festival on the Village Green, April 28 and 29.
This free event, presented by Superior Plumbing, features more than 175 Arts & Crafts booths, 15 food booths, an entertainment stage, and a variety of children's activities.
Bring the family and shop, play, eat, drink and just have a great day together.
Artisans from all over the southeast feature their own hand-made crafts, paintings, clothing, furniture, jewelry and much more.  The festival foods include: cotton candy, candy apples, corn dogs, hand-dipped ice cream, snow cones, polish sausage, chicken sandwiches, and BBQ.  The huge interactive children's area includes big and small inflatable activities, sand art, and more.  So whether it's your child or the child in you, there are plenty of food and activities for the whole family to enjoy.
New for 2018 is an educational Grizzly Bear Show and exhibit. The Show brings an in depth into the life of North America's most prestigious predator, the Alaskan Grizzly Bear. Tonk, the 13-year-old 700-pound grizzly and the two juveniles, Yogi and Maggie delight crowds of all ages with their impressive sizes and amazing behaviors. Throughout the day patrons will witness Tonk, Yogi & Maggie interacting with their handler and showing the amazing bond between grizzly and man.
Wildlife Wendy is an informative and interactive bird show containing birds from all over the world. Gaze in wonder at their vibrant colors & fun personalities. Wendy's tropical birds will provide an up-close and personal encounter with the most entertaining species of the bird world.
Lady Houdini, an escape artist who has successfully performed thousands of public feats and broken Harry Houdini's record for the most water escapes ever. Kristen Johnson is no "lovely" magician's assistant. She is currently the only female anywhere in the world attempting the water torture cell.
Robocars are unique and fun brightly colored, life-size, transforming robot vehicles currently featuring Cars, Trucks, Motorcycles and Tractors. Operator driven, they walk and drive creating endless excitement and photo opportunities for the whole family.
Kids and adults alike will be thrilled to hear Scott Thompson of Peachtree Station performing all the songs you know and love on the Veteran's Memorial grand lawn adjacent to the Spring Jonquil Food Court. Bring a blanket, sing-a-long, and relax in a beautiful setting with the family.
The Jonquil Jog will kick the festival off Saturday morning at 8 a.m., with the 5K Run/Walk. The jog will be held at the City of Smyrna Municipal Building next to the Village Green. Registration is required. Call 770-319-5401 or on-line at www.smyrnacity.com.
The festival hours of operation are 10 a.m. – 6 p.m., on Saturday, April 28, and noon – 5 p.m., on Sunday, April 29. Admission is FREE.
The festival is a wonderful experience for the whole family! The Village Green is located just off I-75 to  (Windy Hill Rd.) head west approximately 3 miles to Atlanta Rd., turn left onto Atlanta Rd. and the festival will be one mile on the right. For more information call Tod Miller or Bill Watson at 770-423-1330.
From the April 2018 issue of The Bright Side, Cobb County Georgia's Newspaper covering Smyrna, Vinings, Mableton, Powder Springs and Austell, GA.