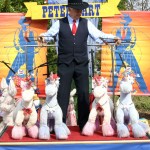 The Smyrna Spring Jonquil Festival is set for April 24 and 24 and will feature more than 175 Arts & Crafts booths, 15 food booths, an entertainment stage, and a variety of children's activities. The Jonquils will be in bloom in the midst of spring time in Smyrna. Bring the family and shop, play, eat, drink and just have a great day together.
Artisans are from all over the southeast feature their own hand-made crafts, paintings, clothing, furniture, jewelry and much more. The festival foods include: cotton candy, candy apples, corn dogs, hand-dipped ice cream, snow cones, polish sausage, chicken sandwiches, and BBQ. The huge interactive children's area includes big and small inflatable activities, sand art, and more. So whether it's your child or the child in you, there are plenty of food and activities for the whole family to enjoy.
Peter Hart will be back this year, bringing his Atlanta Puppet Show to the Spring Jonquil Festival presented by Superior Plumbing. Hart's festival puppet show has appeal to everyone in a family audience with unique marionettes and puppet characters that sing, dance, juggle, play fiddle, break apart and come back together, squirt water, and are even launched by catapult across the stage.
Also returning this year is the Robinson's Racing Pigs and Paddling Porkers Show. You are sure to squeal with excitement as you cheer on the pigs racing for the grand prize of an Oreo! You never know who might win, Brittany Spare Rib is always a favorite, but when it comes to the swimming swine, SPAMOO is the toughest one to beat.
New for 2016 is LEW-E's Comedy Circus Show and Kachunga and the Alligator Show. LEW-E will entertain the whole family with his slapstick comedy bringing miles of smiles to this year's festival goers. For the more adventurous patrons, there will be Kachunga! From deep in the swamps of Florida, Kachunga will wrestle with a nine foot, 300 pound alligator with his bare hands.
Kids and adults alike will be thrilled to hear Scott Thompson of Peachtree Station performing all the songs you know and love on the Veteran's Memorial grand lawn adjacent to the Spring Jonquil Food Court. Bring a blanket, sing-a-long, and relax in a beautiful setting with the family.
The Smyrna Spring Jonquil Jog will kick the annual festival Saturday morning April 23 at 8 a.m., with the 5K Run/Walk.
The jog will be held at the City of Smyrna Municipal Building next to the Village Green (registration required call 770-319-5401 or on-line at www.smyrnacity.com).
The festival hours of operation are 10 a.m. – 6 p.m., on Saturday, April 23, and noon – 5 p.m., on Sunday, April 24. Admission is free.
The festival is a wonderful experience for the whole family. The Village Green is located just off I-75 to Exit 260 (Windy Hill Rd.) head west approximately 3 miles to Atlanta Rd., turn left onto Atlanta Rd. and the festival will be one mile on the right. For more information call Tod Miller or Bill Watson at 770-423-1330.
From the April 2016 issue of The Bright Side, Cobb County Georgia's Newspaper covering Smyrna, Vinings, Mableton, Powder Springs and Austell, GA.