Smyrna's new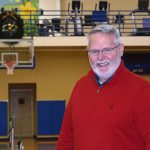 Director of Parks and Recreation has a 25-year legacy of working in recreation and even worked summers as a teenager at a camp in South Carolina.
Richard Garland, who turns 50 this month, previously served as executive director of the Rome- Floyd Parks and Recreation Authority. He worked his way up from gym instructor in Rome, to Park superintendent and served nine years as executive director as the city and county merged operations.
"This is my passion," Garland said. "I've been working in public recreation since I was 15."
At Rome-Floyd, Garland helped write the existing recreation agreement and was heavily involved in multiple SPLOSTs and annual budgets during his tenure. He saw tennis courts added, and transformed an old Marine Corps armory into the new recreation headquarters and assisted with renovations to Barron Stadium.
Garland graduated from Shorter College with a major in recreation management and has a wife, Gail, and two grown children: Bennett, and Rachel.
Garland spent the past two years working with a private company but decided to get back into recreation.
"I've been to Smyrna several times and knew it was a great area with a lot going on," he said. "You've got a great foundation here with the Market Village and a good system of parks and recreation in place."
"You've got a City Council that is not satisfied with the status quo," he said. "I want it to be the best system possible."
Several new projects will be coming online shortly, he said.
New fitness equipment for the Patty Wilson trail at the Aileen Wolfe Recreation Center will be coming in by the spring.
The Reed House, a 1910 historic home on Atlanta Road, is getting $1.5 million in renovations. Demolition is underway but the historic appearance will be retained. It will be used as a small event locale similar Brawner Hall. Plans are for it to open by late summer.
What future projects does Garland have in mind? He's going to let the community decide the future plans.
"Beginning this year we will start some steps to get hold of the pulse of the community," he said. "It's important for me to say that is not what I want to see, it's what the community wants."
He noted that Smyrna is a unique community. "I hope to help it increase the overall quality of life," he said.
He asked the public to be patient. "I want your ideas, and your suggestions are welcome. Call or e-mail if there's a problem and we will address it. My door is always open." (The phone and email are on the smyrnacity.com site.)
From the January 2017 issue of The Bright Side, Cobb County Georgia's Newspaper covering Smyrna, Vinings, Mableton, Powder Springs and Austell, GA.