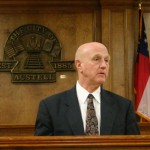 The city of Austell is still feeling the effects of the flood of 2009, Mayor Joe Jerkins told members of the Austell Business Association in his State of the City speech in January.
The flood in September 2009 destroyed more than 700 houses, many businesses and damaged city property.
"We are still dealing with it," the mayor said. He said about half of the homes have been repaired but the remainder have been abandoned and/or foreclosed. The city will buy out 23 homes with federal assistance. So far eight have closed.
"It's a long process," he said. The land will revert to the city and will not be built on again. Another 61 houses in the Sweetwater Creek floodplain are being considered, he said, "but that's five years away."
The city's portion of the buyout is being funded by a $3 monthly storm water fee on taxes.
The city's Legion Field was inundated by floodwaters, but work has begun to restore it.
While the city had some insurance on the property and will get some reimbursement from FEMA, it has spent $321,000 so far of the estimated $600,000 to bring the park back to life.
The Mayor predicted that the annual Halloween festival will return to the park this year.
Other costs are hurting city finances, he said.
"We haven't given a raise in three years," he said. "We are being hurt by health insurance increases."
The city has cut its $12 million annual operating budget by $200,000 to deal with property values falling. Despite the cuts, the mayor said there have been no layoffs in the city.
"Crime in our city is a lot less than other cities," Jerkins said. Police reported no murders in 2010.
The Community Affairs department had good news as the city-owned Threadmill Complex is 95 percent rented. Another city-owned property, the Austell Food Store is being rented to Blue Frog Foods, a supplier and processor of frozen pies, turkeys and hams.