It took just three inches of snow falling in Smyrna, Vinings and South Cobb  Tuesday morning, Jan. 25, to turn the landscape into a winter wonderlandand a snarled, frustrating traffic jam.
Schools, business and government closed their doors and more than a million Atlanta drivers headed home at the  same time, causing a massive traffic jam. Add in slippery roads, jackknifed 18-wheelers and stalled cars and the ride home lasted hours for just a few miles or up to a full day for motorists stranded in cars or shelter.
Cobb County 911 received more 8,000 calls in the 24 hour period since the snow began. There were 821 accidents with 72 of those with injuries.
Cobb Schools were closed beginning at noon Tuesday and remain closed through Friday. Cobb Police assisted many school buses in getting the students home during a treacherous road situation.
(PIC) "My husband picked up our kindergartener from St. Benedict at 1 p.m. and they were stuck on the East/West connector for close to six hours between Cooper Lake and Barnes Meadow Road," said Nancy Castor Spratlin. "They were less than 10 minutes away from home, we live in Barnes Mill."
There were also stories of helpfulness and community good neighbors.
Max Angel, owner of Los Bravos Restaurant on South Cobb Drive, Smyrna, allowed several stranded people to spend the night.
"The staff served us chips and salsa and allowed us to make beds out of the booth seats," said Glynda Lewis. "There were mothers there with babies as young as 7-weeks old. I really am thankful for the kindness of Mr. Angel and his staff. I guess with a name like "Angel" what should you expect. Please visit this restaurant if you are in the Smyrna area."
Tuesday night, Emory-Adventist Hospital at Smyrna provided lodging for 71 employees and 31 stranded visitors. Free meals were provided that night and all day Wednesday. Staff worked where needed; either serving food, driving patients to and from homes, finding cots. There was great team work! The hospital fulfilled its  mission to extend the healing ministry of Christ.
A volunteer "band of brothers" from Vinings Cove and Brookmere subdivisions took to Buckner Road with shovels Tuesday to clear compacted ice and snow, and a construction worker from the area contributed a tractor with snowplow shovel. According to Patty Rech, the intersection is a gully at the bottom of two hills.
Vickery Hardware in Smyrna sold out of ice melt on Wednesday as well as sleds, but had restocked the ice melt by Friday. Kerosene and propane were also top sellers.
"We were open every day, although closing by five," said Susan Harlan, manager of Vickery Hardware. "It was important to be open during this time. I felt a responsibility to be here."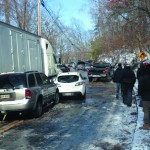 Throughout Tuesday night Cobb County Police, Fire, DOT, and Sheriff  responded to a multitude of accidents, traffic hazards and dangerous road situations.  They assisted stranded motorists and worked with EMA by setting up warming shelters at Home Depot (several locations), Smyrna Community Center, and several Cobb County Fire Stations and Police Precincts.
Early Wednesday Cobb Police responded to a call from Cobb County School District notifying them of a bus with two special needs students who had been stranded all night in a parking lot at South Cobb Drive and the EW Connector in the Publix Parking lot.
Late Tuesday there were some 300-400 students still in schools throughout Cobb.  CCSD sent buses to the schools who had the largest numbers.  Cobb Police responded to over a dozen schools picking up students, teachers and administrators giving them a ride home.  By midnight all students had been rescued. In all, more than 300 staff members and about 20 relatives and stranded motorists used Cobb schools for shelter overnight.
Dr. Michael Hinojosa, Cobb School Superintendent, called the efforts of staff and bus drivers "heroic."
"A variety of factors collided Tuesday afternoon to create a "perfect storm" of chaos, and it is a testament to the quality of our staff that their talents shone brightest during this extreme challenge. I am very proud of their efforts," Hinojosa said.
District 4 Commissioner Lisa Cupid offered her thanks to public safety personnel. "A countless number of district residents displayed great heroism and kindness to help people stranded on the road, including three individuals that assisted me on Pair Road," she said. "For that I am grateful."
District 2 Commissioner Bob Ott added his thanks, "I would like to recognize and thank everyone for all of the hard work that has been done over the last 72 hours. We have received numerous emails and phone calls thanking all of the men and women of public safety for their work, dedication, and commitment."
Police have been working with vehicle towing services to relocate a limited number of vehicles that were blocking the road or creating a significant hazard. In most cases, vehicles were moved within a few hundred feet of the location they were abandoned. In some cases vehicles had to be removed and taken to an impound yard. Vehicle owners will not be charged if their vehicles were towed at the request of Cobb Police. Information on claiming towed vehicles from impound can be obtained by calling Cobb Police Headquarters at 770-499-3900.
From the February 2014 issue of The Bright Side, Cobb County Georgia's Newspaper covering Smyrna, Vinings, Mableton and Austell, GA.