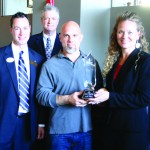 The Vinings Business Association paid honor to its home in January, naming Social Vinings Restaurant as the 2014 Business of the Year.
Other nominees included, Tommy Clyatt Insurance, The Meyring Law Firm, PrintWave and the Vinings Village Civic Club.
Patrick Albrecht, general manager of Social Vinings At 3621 Vinings Slope, Atlanta, accepted the award.
"It's our sixth year in business," Albrecht said and the restaurant had been nominated several times. "It's really great to finally win this. It has also been great to see the Vinings Business Association grow over the years."
The award recognizes a Vinings area business or organization for their commitment to the Vinings community and for their continued participation.
Atlanta Braves President John Schuerholz and Assistant General Manager John Coppolella gave an update on the team's construction progress and prospects for the coming year.
"We will be making announcements on an office building, a hotel and an entertainment venue in the next few months," Schuerholz said. "When those announcements are made it will blow the roof off."
"It's going to be really beautiful," he said. "The ballpark will be a destination for all of the Southeastern states."
Coppolella said the Braves are stockpiling young talent and now have five starting pitchers in its farm system rated as top 100 prospects in the minor leagues. This is part of a plan to make its one of the top five in the majors again.
This was the second year that Schuerholz spoke at the January VBA meeting. "This is a home game for me," the Vinings resident said. Schuerholz turns 75 this year, it's his 50th as a baseball executive and his 25th with the Braves.
From the January 2015 issue of The Bright Side, Cobb County, Georgia's Newspaper covering Smyrna, Vinings, Mableton and Austell, GA.