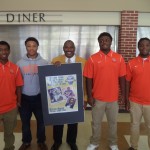 South Cobb High School proudly inducted its second class into the South Cobb Athletic Hall of Fame on Oct. 11.
The Hall of Fame class of 2014 was introduced at the Football game on Friday October 10 and formally inducted at a brunch on Saturday.
The brunch was attended by the inductees, their families, former South Cobb Staff, current South Cobb staff, fellow classmates, and current SCHS students.
The Class of 2014 included the following South Cobb Athletes:
1964 Boys Basketball Team
Lewis Morris (played 1962-1965 and coached 1971- 2010) basketball and softball
Tim Crunk (played 1975-1978 and coached 1984-2000) football and baseball
Cassie Ross (played 2003-2006) Softball
Kory Cheshire (1995- 1998) soccer
Kelvin Bowen (played 1985-1988) football
Mahlon Carey (played 1999-2002) basketball, football, and track
Hall of Fame Inductee Coach Lewis Morris poses with fellow Hall of Fame inductee and former player softaball Cassie Ross. Both were inducted last year with their Softball team which won South Cobb's only State title to date.
Former Running back Kelvin Bowen poses with current members of South Cobb's Football team.
The 1964 South Cobb Boys Basketball Team was inducted 50 years after being runners up in the State Championship finals. They are still South Cobb Strong.
All inductees will have their photo place on the Wall of the Eagle pride walk in the Hall of Fame.
From the November 2014 issue of The Bright Side, Cobb County Georgia's Newspaper covering Smyrna, Vinings, Mableton and Austell, GA.