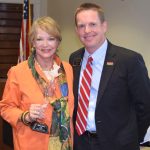 Her resume includes jobs as teacher, principal and school board member. Now Susan Thayer can add the distinction of being Smyrna Citizen of the Year.
Mrs. Thayer was presented the award at the October Smyrna Division breakfast of the Cobb Chamber of Commerce.
In her introduction by Smyrna Mayor Pro Tem Dereck Norton noted her career highlights and said, "she's been a trusted voice on the school board for Smyrna for the past four years."
During her 40 year career in education, she worked for three metro Atlanta school systems, serving as a teacher, a guidance counselor at Osborne High School and the principal of Pebblebrook High. She also served as the director of leadership development and the executive director of high schools for Cobb County Schools as well as the assistant superintendent of K-12 curriculum in neighboring Douglas County.
"Working for the community has been a pleasure and a real joy," she said in accepting the award. "Working with you has been a delight."
"Our community has so much going for it," she said. "But our community will never be better than our schools."
Thayer, the only woman on Cobb's seven-member school board, did not seek re-election this year. She will be replaced by pediatric dentist Jaha Howard in January.
Cobb Superintendent Chris Ragsdale said Thayer's presence on the school board will be missed come January.
"Her biggest asset is the experience she brings from working in K-12 school districts," he said. "She's been a principal, she's been a teacher and she's worked in the central office … That experience is just invaluable."
Thayer said she hopes to spend more time with her family next year, and looks forward to seeing how the "other half" lives.
She was nominated for Citizen of the Year by Smyrna Mayor Max Bacon, who said he couldn't think of anyone more deserving of the award.
"She's done so much for the school system. She has probably been the most knowledgeable school board member we've had in her first and only term," Bacon said. "She knew the system and she represented the Smyrna area as well as anybody could have represented us."
Bacon's sentiments were echoed by Smyrna councilman Derek Norton, who presented Thayer's award.
"She's a longtime friend and has been very, very good for us on the school board," he said.
Thayer, who said she never expected to receive such a recognition, was lured to Brawner Hall early Wednesday under false pretenses by her friend, Cobb Superior Court Judge Ann Harris.
Thayer said she was told the 7:30 a.m. event was a presentation about the new Susan Todd Pearson Middle School, which the district is building to relieve overcrowded Campbell and Griffin in her portion of the county.
"She was certainly surprised," Norton said.
Thayer said serving on the school board would be her last professional activity, calling it a "tremendous honor" to step down with the accolade.
"What a way to go out," she said. "It's very flattering and very humbling."