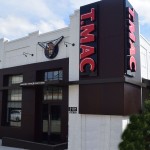 Atlanta-based TM Restaurant Group today announced that it will open its newest Taco Mac location in Cobb County's growing Cumberland community.
Opening November 10, the new restaurant is in the Parkway Pointe shopping center, at the northeast corner of Cobb Parkway and Cumberland Boulevard, just a few blocks away from the site of the new Atlanta Braves stadium.
The Cumberland location will showcase a fresh and exciting look, including the use of the restaurant's longtime nickname, T.MAC, while providing loyal Taco Mac fans with the authentic food and craft beer they have grown to love over the last 35 years. The contemporary design of the restaurant is inspired by the cornerstone of the T.MAC experience – genuine food, craft beer on draft and sports on HDTVs.
An expansive bar area, featuring a 58-foot solid wood bar top crowned with 10 overhead aluminum beer conduits housing 96 beer lines, provides a visual connection to the constantly flowing selection of 96 beers on draft including a special focus on Georgia and the Southeast's growing number of craft breweries. As a more subtle nod to the T.MAC beer experience, two high-top communal table tops contain remnants of beer bottle glass. In addition to draft and bottled beer, the T.MAC will serve signature cocktails and premium wines.
In keeping with T.MAC's tradition of being a great, neighborhood gathering spot to watch sports and drink craft beer, the new location will offer 64 large screen HDTVs to provide optimal sports viewing all day, every day. Other design highlights include a rich palette of millwork, masonry, warm colors and energy-efficient LED lighting.
Jason Everett, TM Restaurants Regional Manager comments: "There's been demand for another neighborhood Taco Mac in Cobb for some time, but we hadn't found the right place until now. We can't wait to finally serve the Cumberland area and be a part of the growth and energy that's happening there. We look forward to bringing what we do best to the community – genuine food, craft beer and a love of sports."
At nearly 7,000 square feet, the interior space will accommodate 260 guests with a variety of seating eningoptions – including three European designed circular booths. Accommodating six guests each, the circular booths feature seating that rotates 360 degrees for easy in and out. A spacious and convivial covered and heated outdoor patio provides seating for 54.
The Cumberland T.MAC will open with the full menu of T.MAC's signature favorites including its roasted wings, fresh-baked flatbreads, double hand-breaded chicken tenders and sides including oven-baked macaroni & cheese, broccoli queso casserole, green beans and fresh roasted mushrooms. T.MAC continues to use high quality ingredients in all of its offerings and will make its chips, salsa, signature queso, pico de gallo, guacamole, and salad dressings fresh in the restaurant. T.MAC also uses all-natural chicken, USDA American ground beef and a variety of fresh vegetables.
From the November 2014 issue of The Bright Side, Cobb County Georgia's Newspaper covering Smyrna, Vinings, Mableton and Austell, GA.