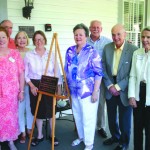 Two bronze plaques noting that the Taylor-Brawner House and Brawner Hall have been named to the National Register of Historic Places were unveiled on the front porch of the historic restored house on Atlanta Road in late June.
Special guests attending include descendants of families who lived in the house now known as Taylor-Brawner House. After a very long search, Mike Terry located several Taylor family members, three of whom will attend the ceremony, along with up to six Brawner family members. The Taylors are coming in from Texas, Florida, possibly North Carolina and Decatur. All of the Taylor family members are great grandchildren of the Taylors that built the house; Micajah and Mary Taylor. It is expected that this will be their first meeting as family members.
Most of the Taylor family expected to travel to Smyrna for the plaque unveiling knew nothing of their Smyrna ancestors until contacted by Terry, and got to meet distant cousins and learn things about family history they might never have known.
The process of gaining this prestigious recognition took three years or more, but the actions that led to the designation began nearly 11 years ago.
"We saw a need for this historic house to be restored," said Lillie Wood, char of the Taylor-Brawner House Foundation.  She credited Nancy McGee for her three years of work in filing the papers to gain National Register certification for both buildings.
These are the first two buildings in Smyrna to gain National Register status.
"We are all thrilled to have this historic designation in our community," said Melleny Pritchett, Mayor Pro Tem, who was filling in for an ill Max Bacon.
The City of Smyrna acquired the Brawner Hospital campus in 2001. The 1910 hospital building was renovated to provide office and meeting space. The 11 park includes a playground, gazebo, walking trails, and pavilion and passive park. It was opened in April 2009. The Taylor-Brawner House, a c. 1890 Folk Victorian home that also sits on the 11 acres, had a more uncertain future until a group of citizens proposed fundraising to save, restore and furnish the house that was once the home of Brawner Hospital founder Dr. James Brawner. The Taylor-Brawner House Foundation (TBHF) was formed and an agreement between the City of Smyrna and TBHF set forth a future for the house as a special events center. The building now supports events for groups of 45 to 50 people.
From the July  2012 issue of The Bright Side, Cobb County Georgia's Newspaper covering Smyrna, Vinings, Mableton and Austell, GA.