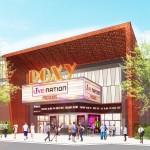 The Atlanta Braves are teaming up with Live Nation to develop and operate a 53,000 square-foot entertainment venue at its new mixed-use community adjacent to SunTrust Park. The venue will have the iconic Atlanta venue name – The Roxy Theatre.
This arrangement is yet another example of the Braves' commitment to deliver the preeminent sports and entertainment venue in the country. The Roxy Theatre will have a standing room only capacity of 4,000 and will feature approximately 40 music or comedy shows a year, mostly on non-game days.  The space will also be used for private and special events throughout the year.
Live Nation will operate and book the venue as well as oversee ticketing and promotion for the concerts and special events.
"We want to bring fans and visitors to this new community 365-days a year for a variety of events, and partnering with the nation's preeminent live entertainment company in Live Nation guarantees excitement year round," said Mike Plant, Braves executive vice president of business operations.  "Peter Conlon and Live Nation have an incredible track record here in Atlanta managing top acts and putting on first-class events."
Live Nation Atlanta's President Peter Conlon is known for the many concerts he has brought to Atlanta and the Southeast. His name is synonymous with what music is in Atlanta.
"Live Nation is very excited to bring back an iconic venue such as the Roxy Theatre,"  Conlon said.
The Roxy Theatre will be situated at the north end of the plaza outside the gates of SunTrust Park.  The plaza is designed to help visitors transition from the surrounding development into the ballpark and will serve as an additional entertainment venue for events throughout the year.  Anchoring the southern end of the plaza will be the Omni Atlanta Hotel at SunTrust Park, which will feature approximately 260 finely appointed guest rooms and suites, as well as a nine-story office tower, which will house more than 1,000 Comcast employees. Surrounding the plaza will be a host of dining options, including chef-driven cuisine, a brewpub and additional fast casual options.
From an upcoming issue of The Bright Side, Cobb County Georgia's Newspaper covering Smyrna, Vinings, Mableton, Powder Springs and Austell, GA.