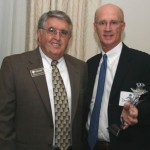 The Smyrna Area Council of the Cobb Chamber honored Donald H. Whitney as its "Citizen of the Year" in November.
Whitney is founder and president of Corporate Sports Unlimited that each Labor Day runs the U.S. 10K Classic and Family Festival. The charity event funds his newest project, the World Children's Center, a 710 acre planned community in Harrelson County for some 800 homeless, orphaned and or neglected children.
Drawing some 100,000 participants and spectators, the 10K Classic also features in-line skate championships and procycling. It draws participants from some 50 countries, more than 40 states and involves 75 national and international corporations.
Over the past 18 years, the U.S. 10K Classic has donated more than $5 million to area charities.
The award was presented by Smyrna Council Chair Buddy Purvine.
"Whitney has always had an entrepreneurial spirit. From his boyhood paper route to leading his Cub Scout Pack in cookie sales," Purvine said. "He has done a lot for Smyrna, Cobb County and the community."
Whitney founded Corporate Sports Unlimited in 1980 to develop team-building events fro executives and employees. The company also manages and develops corporate executive health clubs and spas.
In thanking the Chamber for the award, Whitney said, he believes that a "responsibility for living in the community is giving back."
Whitney and his wife, Cathy, live in Vinings Estates with their twin sons, seniors at Whitefield Academy. He said that after his sons graduate, "we will be empty nesters, except for the 800 children at the World's Children's Center."
The Smyrna Citizen of the Year award is given by the Smyrna Area Council of the Cobb Chamber of Commerce and the Smyrna Business Association. It is presented annually to someone who has demonstrated through definable, exceptional deeds that he or she has made the Smyrna area a better place to live.