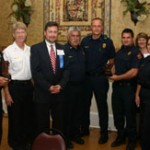 The Austell Police Department and the Austell Fire Department were honored for their "heroic rescue efforts" during last year's flooding as the South Cobb Division of the Cobb Chamber honored public safety officers in October.
The chamber honored police, fire, EMS and sheriff's deputies from the South Cobb area at the Oct. 27 luncheon.
The South Cobb Council Public Safety Award of Merit was presented to the entire Austell Police and Fire Departments by Brad Hulsey. Austell Fire and Police were nominated by Anne Ervin of Puckett EMS.
"The floods of 2009 and their aftermath will be remembered by the citizens of Austell for a very long time," the nomination said. "The quick response and teamwork among Fire, Police and city workers to rescue flood victims demonstrated the commitment each has to the community they serve. "
The police and fire departments were cited for their teamwork and tireless efforts which prevented any fatalities in the flooding.
Cobb County Police Officer Kevin Giesler was honored for his work in identifying gangs and gang members in South Cobb.  In August, Officer Giesler observed a man loitering at a gas station on Six Flags Drive, giving him a criminal trespass warning. Just hours later a murder in the same location led to a description of the same man and Officer Giesler's information led to his arrest.
Officer Giesler was nominated by Precinct 2 Capt. S.L. Merrifield and Sgt. V.A. Verola.
A Shift Firefighters from Stations 13 and 23 were presented the Public Safety Award of Merit for a a water rescue of a person from a car that ran off Villa Rica Road into a pond Oct. 6. The nomination came from Cobb Fire Chief Sam Heaton.
Steve Puckett and Puckett EMS Operations Manager Christy Rollins made the nomination.
Anne Ervin of Puckett EMS was presented the Public Safety Award of Merit for her commitment to community service, community education and fundraising for numerous projects at Compton Elementary, Bryant Primary, Riverside Primary and Harmony Leland Schools and Safe Kids of Cobb County. Ms. Ervin serves as Director of Administration and has been with Puckett EMS since 2004.