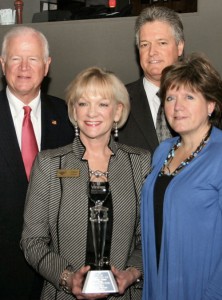 The Vinings Historic Preservation Society was named 2012 Vinings Business of the Year. Executive Director Gillian Greer received the award, joined by VHPS Board Members and volunteers.
"This is the icing on the cake on the launch of our capital campaign," Ms. Greer said. The VHPS is working to raise $250,000 over the next year to meet the restoration and renovation needs of its historic properties, including the Pace House, the Old Pavilion and Yarborough House where the group has its office and welcome center.
"Everything we do is for Vinings," Ms. Greer said. "We can't help but be a part of this wonderful group."
In addition to preserving the historic buildings, the VHPS provides an Ice Cream Social in June, and other children's events such as pumpkin painting and a Christmas party. It also holds a golf tournament fundraiser and Vegas in Vinings.
Joining Ms. Greer were President Karen DeRuyter; Incoming President Walker McCune and Board Member John Cole.
The other four finalists for the award finalists include:  LGE Credit Union; Social Vinings restaurant; The Bright Side Newspaper; and the Courtyard Atlanta Vinings hotel.
"These five Vinings area organizations have contributed to the overall definition of our community and we congratulate them on their achievements," VBA Chair Glenn Christian said.
The 2008 winner was Akers Mill Chick-fil-A, the 2009 winner was SOHO restaurant, the 2010 winner was the Courtyard Atlanta Vinings hotel and the 2011 winner was Vinings Jubilee.
Guest speaker at the Dec. 8 event was Sen. Saxby Chambliss, who was introduced by Sen. Johnny Isakson, tongue in cheek as, "a man who has been criticized for trying to balance the budget and save taxpayers money."
"We haven't been doing a lot in the Senate until the end of the year," Chambliss said. "We voted at 2:30 a.m. (on the fiscal cliff resolution) on New Years Day. It wasn't a pleasant experience."
He noted that several other deadlines — on the US Debt Limit, continuing resolutions on the budget and a $1.2 trillion sequestration of funds — by the beginning of March.
Chambliss is known for being part of "the Gang of Six" which has been working on the goals of cutting spending, reforming entitlements and enhancing revenue.
"We are going to have to come up with very ugly product and everyone will feel some pain if we are going to fix this predicament," he said.
From the January 2013 issue of The Bright Side, Cobb County Georgia's Newspaper covering Smyrna, Vinings, Mableton and Austell, GA.