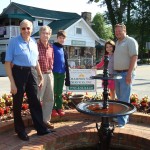 The Vinings Village Civic Club received a generous gift by Jimmy Keiley, owner of Champion Yard Services, of restoring and re-landscaping the "downtown village fountain area" for the club. His company has been instrumental in the beautification of the Smyrna-Vinings area for more than 14 years.
Jimmy's mother, Robyn Walsh Keiley, a member of the club since 1973, was diagnosed with ALS on her 70th birthday and passed away November 2011 after a courageous two year battle against the disease. His wish was to honor his mother in a very meaningful way this Mother's Day. Mrs. Keiley, a native Atlantan, was the daughter of the late Frank Walsh and Robyn Walsh of Buckhead.
From left are Tony Lazzaro, Past President ViningsVillage Civic Club; Tim Keiley; Aidan Listerman, Jameson Listerman, and Jimmy Keiley, owner Champion Yard Services.
From the June 2013 issue of The Bright Side, Cobb County Georgia's Newspaper covering Smyrna, Vinings, Mableton and Austell, GA.