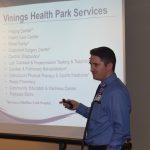 Construction is well underway on the new Vinings Health Park, which should open in September, WellStar officials told community leaders in December.
WellStar broke ground in February on the new building at 4441 Atlanta Road SE. near I-285 and Cumberland Pkwy.
The new three level, 162,000 square-foot facility will primarily serve residents in the South Cobb County area, including Vinings and Smyrna as well as Northwest Fulton County.
This is the third WellStar Health Park; the two existing facilities in East Cobb and Acworth served some 300,000 patient visits last year.
The construction team reported that the building is on schedule.
"Our first goal was to get the parking lot in," said Joe Young of Meadows and Ohly. The steel structure is going up and topping out was expected in early December. "The building's 'skin' is now going up and it will look essentially completed from outside over the next month. The rear parking deck is nearly finished."
"We are on schedule and will be meeting our construction dates," Young said.
Next year the Health Park will add an outpatient surgery center with three operating rooms, three procedure rooms, and 23 pre- and post-op Rooms. Construction will start June with opening in early 2018.
Services offered at Vinings Health Park include: an imaging center, urgent care center, sleep center, outpatient surgery center, cardiac diagnostics, lab outreach and free admission testing teaching, cardiac and pulmonary rehabilitation, or those work physical therapy and sports medicine, a retail pharmacy, community education and wellness center, and a Parkside bistro.
Michael Johnson, administer administrate tour of the East Cobb Health Park and the new Vinings center said that Vinings will bring in some 150 to 175 new jobs. "It will attract medical professionals and new businesses," he said. "We try to be a good partner. Our goal is to be responsible and take care of concerns from the community."
The facility will be staffed with a multi-specialty mix of physicians to include a strong foundation of primary care physicians – family physicians, internal medicine, pediatrics and OB/GYN -and specialists, such as cardiologists, pulmonologists, ENT, gastroenterologists, surgeons, allergy/asthma, endocrinology and others based on community needs.
From the January 2017 issue of The Bright Side, Cobb County Georgia's Newspaper covering Smyrna, Vinings, Mableton, Powder Springs and Austell, GA.