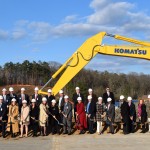 The new WellStar Vinings Health Park is expected to open its doors in September 2017 after ground was broken at the Atlanta Road location Feb. 25.
The new three level, 162,000 square-foot facility will primarily serve residents in the South Cobb County area, including Vinings and Smyrna as well as Northwest Fulton County.
This is the third WellStar Health Park; the two existing facilities in East Cobb and Acworth served some 300,000 patient visits last year.
Vinings resident and WellStar Chief Pediatric Officer Avril Beckford, , M.D., said the new Health Park will be welcomed by physicians as a beautiful destination medical home, and improve access to healthcare for patients in our community.
"We are bringing WellStar right here to the neighborhood. The Vinings community has a diversity of ages and the Health Park will serve them all from before they are born to old age," she said. When referring new parents to pediatricians, "Now these colleagues are close to home."
"We will be expanding the footprint of Cobb Hospital and WellStar, said Kem Mullins, WellStar executive vice president. "We want to improve access to care and control costs. We began with a survey on what services our patients needed most." He noted that the new facility fill some 85 percent of survey requests.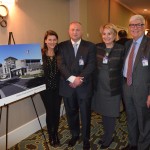 "This is a big day for Smyrna-Vinings and South Cobb," said Joe Brywczynski, senior vice president of WellStar health Park development. "This brings outpatient service to the community we serve. It combines and coordinates services under one roof in a one stop facility.
Planned services at the new Vinings Health Park include diagnostic testing, such as medical imaging, lab, cardiac, and sleep studies. It will also house urgent care, physical therapy, cardiac and pulmonary rehabilitation, a pharmacy, community education, health screening and wellness services and a café. Future plans include an outpatient surgery center.
These services will be integrated with physician practices, including primary care — family and internal medicine, pediatrics and obstetrics/gynecology — and specialty care in cardiology, pulmonology, rheumatology, endocrinology, allergy/asthma, urology, vascular surgery, ENT, general surgery, orthopedics and neurosurgery.
"Patient feedback has been overwhelmingly positive regarding our health parks concept. This fills a need and provides valuable access to health care in our community," said Amy Carrier, president of WellStar Cobb hospital. "We anticipate the same level of care and positive patient experience at the Vinings Health Park in order to become the patient's and family's destination point and first choice for all their outpatient services."
The Vinings Health Park is located at 4441 Atlanta Road SE. near I-285 and Cumberland Pkwy.
From the March 2016 issue of The Bright Side, Cobb County Georgia's Newspaper covering Smyrna, Vinings, Mableton, Powder Springs and Austell, GA.