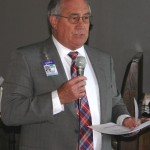 WellStar will break ground on its Vinings Health Center late this year, Reynold Jennings, WellStar CEO told the Vinings Business Association.
"We will start construction in December on the Vinings Health Park," he said at the May 5 meeting.
The WellStar Vinings Health Park, on 25 acres of property bordering I-285 to the east, Atlanta Road on the south and Cumberland Parkway on the north, will feature a 162,000 square foot outpatient facility and doctors' offices in the Smyrna/Vinings area.
The first health park opened in Acworth and the new facility will be similar to one in east Cobb, but on a larger site. Jennings hinted that additional expansion might be available at the Vinings campus.
Estimated cost for the new health Park is $68 million, according to Joe Brywczynski, senior vice president health parks development.
From the May 2015 issue of The Bright Side, Cobb County Georgia's Newspaper covering Smyrna, Vinings, Mableton and Austell, GA.