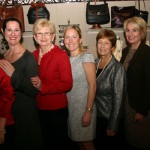 WellStar Health Systems is leading the way in encouraging women in leadership positions. With women comprising more than 82 percent of the company's workforce, the members of WellStar's Women in Leadership are dedicated to mentoring and encouraging women to fulfill their potential in their profession.
"We are helping women hold expanded leadership roles, said Bethany Robertson, co-chair of the Women in Leadership group. WellStar is very supportive of women in the organization. Ms. Robertson is the Vice President and Chief Learning Officer in Human Resources for WellStar.
An impressive group of WellStar women physicians, administrators, and top officials gathered at a recent event at Lana Rose Boutique, Smyrna, hosted by Lana Rose owner Kristie Gaskin. The women, who are a part of the WellStar Women in Leadership group, each invited two others to participate in the evening event. Lana Rose and Ivy Walk are directly across Cumberland Parkway from the site of the new WellStar Health Park.
Dr. Avril Beckford is excited about the new WellStar center coming to Smyrna. A leader and mentor for others in the Women in Leadership group, she is the Chief Pediatric Officer and a member of the Board of Trustees for WellStar. Dr. Beckford is a pediatric and adolescent physician with her own practice in Smyrna and Vinings. When completed in late 2015, the new Smyrna/Vinings WellStar Health Park will "offer comprehensive care, including wellness and acute care; specialty services; urgent care and physical therapies.
The new facility will "have the outpatient clinic in one setting to be convenient for the patients at one stop," said Candice Saunders, the Chief Operating Officer at WellStar Health Systems. "The out-patient center will be consumer focused with access convenient in one location. Physicians will work closely together to coordinate care."
From the January 2014 issue of The Bright Side, Cobb County Georgia's Newspaper covering Smyrna, Vinings, Mableton and Austell, GA.