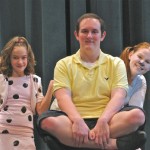 Happiness is … you joining us for the first dessert theater production by the AlphaOmega Performance Ensemble at Bethany UMC!
Performances of the inaugural summer musical "You're A Good Man Charlie Brown" will be held at 7 p.m. on July26-28 in Lacy Hall at Bethany UMC on 760 Hurt Road in Smyrna.
The AlphaOmega Performance Ensemble was started this year by Terry Heinlein and Jim Farmer of Bethany. The church had completed construction of Lacy Hall back in 2010.
"It is a great performance space, but we have not been able to use it to its full potential yet. We just did not know how." says Heinlein. Heinlein and Farmer approached A. Tracy Evans of the Smyrna Village Players and enlisted her help to start the drama program.
"It was a win win situation for both parties." said Evans, "The Village Players were taking the summer off, so I was available and I had a group of young people who wanted to participate."
Tickets for the dessert theatre production will be available at the church offices as well as at the door. Tickets are $10 each and if you buy three tickets, you get a fourth for free!
For further information contact Tracy Evans at alphaomegape@bellsouth.net or call the church offices at 770/436-2675. Pictured are Grace Regan as Sally Brown; Matthew Luce as Charlie Brown and Brooke Patrick as Snoopy.
From the July  2012 issue of The Bright Side, Cobb County Georgia's Newspaper covering Smyrna, Vinings, Mableton and Austell, GA.