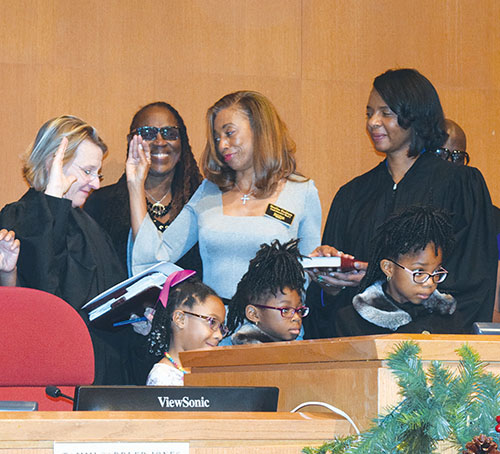 Maryline Blackburn knew that she was making history after the votes were counted in the Smyrna Ward 3 runoff election Dec. 5.
"Some of you may not know it, but on Dec. 5 you made Smyrna history," she said.
"For the first time in our 145 years of existence, you elected an African American to Smyrna's City Council," she said. "Forty-six percent of Smyrna's population are people of color and they now have a seat at the table."
The 56-year-old vocalist, beauty queen and founder of "Divas With A Cause," pledged to serve as a representative of all the people after her swearing-in ceremony Dec. 18.
"I will work hard every day to gain your trust and be a councilwoman for all Ward 3 constituents," she said.
Born in Europe, Blackburn grew up in Fairbanks, Alaska. In 1984, she won the Miss Alaska Scholarship Pageant where Sarah Palin was her second runner up. Blackburn then went on to represent Alaska in the Miss America Scholarship Pageant where she was a talent finalist. She has performed with and opened for such legends of entertainment as Bob Hope on a USO tour, Cab & Chris Calloway, The Platters and Celine Deon.
During her campaign Blackburn pledged to put Families First and provide residents with a True Voice on City Council.
"I spoke of four fundamental pillars by which we should LEAD our community: Livability, Education, Accountability and Direction," she said.
Speaking during her fist council meeting, Blackburn urged "smart growth that maintains the character and live-ability of Smyrna while balancing the needs of developer and business interests. Before we make any decision or vote on anything, we must first fully understand the impacts on traffic, schools, parks and public safety."
She said she would work build upon the progress we have made and make Smyrna schools outstanding.
"As elected officials we must hold ourselves accountable to the people we serve. Are we meeting objectives? Are we keeping our promises?"
"As someone who has served on the Vision Committee, I understand that it all starts with a vision that clearly defines our goals and who we want to be as a community. That vision should be used to guide all of our decisions and it should represent the interests of Families First."
From the January 2018 issue of The Bright Side, Cobb County Georgia's Newspaper covering Smyrna, Vinings, Mableton, Powder Springs and Austell, GA.