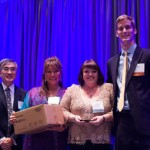 The Technology Association of Georgia (TAG) and the TAG Education Collaborative (TAG-Ed) announced that Mableton Elementary School has been named as the Elementary category winner for the 2014 Georgia STEM Education Awards.
The Georgia STEM Education Awards recognizes schools, programs, and companies for outstanding efforts and achievements in supporting and promoting STEM (Science, Technology, Engineering and Math) Education in Georgia.
Winners competed in 8 different categories in the statewide event. "It was truly a challenge to choose from among the many applicants from around Georgia," said Tino Mantella, president & CEO of TAG. "We applaud this year's winners for standing out as leaders in Georgia's educational community."
Winners were announced during a special awards gala on September 26th, held at the Savannah International Trade and Convention Center. The event was sponsored in part by Promethean and Cisco Systems Inc.
"It is so gratifying to see STEM education gaining momentum throughout the state of Georgia," said Michael Robertson, executive director of TAG-Ed. "In order for our students to be prepared for tomorrow's careers, they must first acquire strong analytical and problem solving skills through rigorous coursework in school. The programs highlighted today are leading the way in this effort and sharing best practices that will prepare our students for the challenges ahead. "
For more information about TAG and the Third Annual Georgia STEM Education Awards visit: http://www.tagonline.org/events/stem-education-awards/.
Mableton Elementary winning the TAG Award for its ongoing implementation of a STEM program at the school.